In the years I have been cycling I wouldn't say I am the most experienced cyclist but I have to admit, I am really enjoying it and have become a keen cyclist in recent times.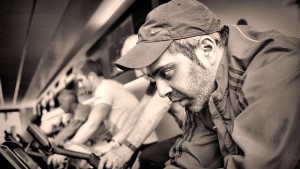 A few years back after getting a sports injury I decided not to run as much, so as a way of keeping healthy I decided to cycle; most of this was indoors in the gym environment. However, looking at grey walls in the confines of a gym whilst the weather was nice outside, seemed a waste of time and opportunity to get out and really work the lungs. So on purchasing a cycle, I decided to cycle more outdoors, in all weather and terrains.
As they say, the rest is history. I was hooked on cycling and especially outdoors!
Then I came up with the idea of 7events
As part of the 7events campaign, I will be taking part in the Prudential Ride 100 Surrey on Sunday 31st July 2016. This is one of the five events over the weekend on traffic free course. This will see more than 25,000 amateur cyclists take on the challenge through London and Surrey on a similar route to that of the London 2012 Olympic Road Cycling Races. It will start in Queen Elizabeth Olympic Park, then travel through the capital and onto Surrey's stunning country roads and through the Surrey Hills before a spectacular finish on The Mall in central London.
To say this is a challenge is accurate but at the same time exciting would be an understatement.
Previous cycling challenges and experience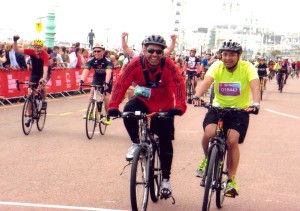 As a challenge in 2015, myself and Russell who I have known since Junior School decided to take part in the London to Brighton 56 mile cycle ride. This is the furthest I had cycled . So with a lot of strength training, cycling distances and intervals in the gym along with clocking up a fair few miles outdoors, the challenge was taken up and accepted!
We both completed the race and raised just under £2,000 for the British Heard Foundation.
Was it easy? NO
Was it fun? YES
Would I recommend it? YES, at least once in your life!
Did you enjoy Ditching Beacon?? HELL NO, does anyone? In 2016 I am determined to do it in one go!
Rides up to the event
As a build up to the main event, I will be taking part in a number of rides. These are:
Saturday 19th March 2016 – London to Reading – a steady 40 mile bike ride.
Sunday 19th June 2016 – London to Brighton – a few extra miles on the last ride. This time only 54 miles, he says!
I learnt a few lessons last time and look to remedy them this time round. I need to make sure I put in the extra miles of training and making sure that I eat well, especially on the day and ride!
So, that is my plans which take me up to the Prudential Ride 100 Surrey. The aim is to complete the ride in a reasonable time and in one piece!
The main theme to this though is to raise lots of money for the 7events campaign and support all the great work they are doing. So, please support and donate as big or small as you can for my Prudential Ride 100 Surrey. Every little bit helps!!