Jit shares his thoughts on the 100 mile bike ride he completed for 7Events
"I have to start by saying what a fantastically organised event this was. A huge thanks goes out to those involved in the organisation, it went really well.
So, I bet you're all wondering why I'd sign up for this…Well, I decided to challenge myself with the 100 mile ride and use it as an opportunity to raise money for 7events. Before this, I had only ever completed a 54 mile ride which I found reasonable in 2015 and very tough in 2016 so I knew I had to start working hard to get myself back into it and setting a challenge for charity was my greatest motivation.
Five weeks prior to the ride, I took part in the BHF London to Brighton 2016 bike ride, this was incredibly hard this year compared to the year before and I really struggled to finish it in good time. I actually ended up finishing it in 5 hours and 23 minutes which was an hour longer than it took me the year before.
I was really disappointed with myself at this stage and lost a bit of confidence in my abilities. I spent some time with Dean, a friend who cycles with me and we mapped out a plan of action to get me back to and better than I was before.  We realised that if I wanted to finish the 100 mile bike ride, it would take a lot of work but would definitely be possible. It meant no weight training, getting sufficient rest, and getting some good, long rides in. We made a plan and stuck to this and as they say the rest is history!
Onto the weekend of the Prudential Ride London Surrey 100.
My cousin Krishan was also doing the ride for Muscular Dystrophy UK, so I stayed with him in London, thankfully he only lives 5 minutes from the start line, but it still meant a very early start…
The day before the ride, I completed my final registration and was really impressed with the exhibition and advice they gave us all – it was really appreciated as my nerves had kicked in and hearing tips from experts was helping to reassure me.
We ate well, carbed up nicely and had a good nights sleep!
So the day of the ride, we were up at the crack of dawn, I was excited scared and nervous but more determined to get through it than I had ever been before. I checked the bike one last time to make sure I was ready as there was no turning back!
Off to the start line I go!
All the cyclists were riding to the various starting points and this bought a great buzz and sense of excitement to the atmosphere. I got to my starting point and queued up for about an hour just to get to the start – the waiting was nerve-racking but having people around in the same situation doing the same thing as me for such great causes really helped my motivation.
So off we go!
I started at the Queen Elizabeth Olympic Park and cycled through the closed roads of London – It was a great feeling to have no vehicles, no traffic on the roads, just fellow cyclists and the supporters cheering us on!
I was cycling very well in the early stages and felt good. In fact I was buzzing. My legs felt strong, I was refuelling at the right points, in fact you could say I was flying!!
Cycling past the Tower of London and the various sights was really inspirational – a reminder that London is a beautiful place even though that's sometimes forgotten when it's so busy. There was a bit of banter with fellow cyclists as we went on through Chiswick and Richmond Park which was fun. I made a few stops to get more water and take a quick break. The volunteers at these stops were really motivational and provided a really good service!
Carrying on cycling, we went through Kingston Upons Thames, Bushey Park and over the Hampton Court Bridge. Again the support along the route was fantastic!
We carried on down past the 30 mile post and then onto the 40 mile post. Here due to a number of unfortunate incidents, we were delayed by a number of hours. This led to the a diversion being put in place due to the fact we would not be able to make the finish line before the Prudential Ride London-Surrey Classic.
At this point, my thoughts are with the family of Robin Chard who had a heart attack during the race and sadly passed away.
Before I could go on, I realised I had to fix a puncture and torn tyre, but with the help and support of the Evans Cycle team, I managed to get up and running quite quickly. I passed through Oxshott, Esher, Kingston, Raynes Park, Wimbledon Village and Putney and then entered Central London again.
Still at this point, I was feeling good and happy with my cycling. I passed a number of landmarks, including London Bridge and Trafalgar Square. Entering the final few miles, you could see everyone speeding up and pushing harder. Coming down The Mall, you could see Buckingham Palace in the foreground and that was an amazing site. Obviously, I had to speed up too and I did, the loud cheers of the crowds were great!!!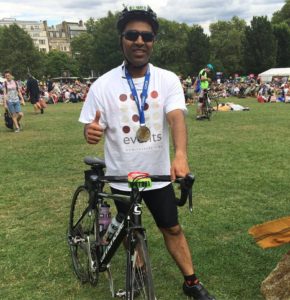 Crossing the finish line, I was shattered but happy with the accomplishment and the money raised for the 7events campaign. I went on into Green Park to meet Krishan, the family and friends who wanted to share the experience with me. It felt good and I was so happy to see them all, especially Isha and Amil. After seeing me finish it, they both said they want to do the bike ride too – keep an eye for them in the future…
So in total, I had cycled 75 miles in  4 hours and 56 minutes – something I was really proud of!
Considering I struggled 5 weeks prior to the race,  I was extremely happy with completing the ride. It was such a great achievement.
Would I do again? Yes, for sure. Would I recommend it? Definitely – the feeling at the end is like no other – simply amazing! Who's up for a bike ride in 2017??