Who are we supporting
7events are supporting the following charities
Joe Humphries Memorial Trust
More than 600 young people, 12 – 35 years old, every year in the UK lose their lives to Sudden Arrhythmic Death Syndrome (SADS), the Joe Humphries Memorial Trust was set up to break the 'silence' on SADS, create a new generation of young life savers and inspire young people.
LOROS
LOROS Hospice is a local charity and every year they care for over 2,500 people affected by cancer across Leicester, Leicestershire and Rutland. They provide free, high-quality, compassionate care and support to terminally ill adult patients, their family and carers.
Teenage Cancer Trust
Around seven young people aged between 13 and 24 are diagnosed with cancer every day in the UK. They need expert treatment and support from the moment they hear the word 'cancer.' The Teenage Cancer Trust is the only charity dedicated to making this happen.
Leicester Hospitals Charity
Bone Marrow Transplant Unit provides specialist care to those in need of bone marrow transplants or donors. The nurses and doctors at the Leicester Royal Infirmary BMTU Unit aim to ensure the best possible quality care is given to ensure all patients are as comfortable as they can be and given the level of care they need.
About 7events
working together to make a difference...
We're a growing team of friends, all with one common goal – to help our local community.
24 hours in the gym, 13 miles up and over muddy obstacles, 10k run through Cannock Chase, 100 miles on a bike and 26 miles at the London Marathon – not everyone's idea of fun! But a group of friends are pulling together to complete a series of challenges and events to hopefully raise awareness and lots of money for four Leicester based charities.

From April 2016 onwards, a team of local, likeminded and incredibly active people will be participating in 7 different events to raise as much as possible for three different charities all based in or around Leicester. And you can take part too – whether you're a regular at the gym, a local business or just someone willing to help their local community, there's something for you.

We are purchasing equipment for these charities and organisations. They vary from community defibrillators which the public can access 24 hours a day in an emergency thus saving time, to equipment the wards need to make a patients time there comfortable.
The Events
Find out more details on the 7 individual events
Visit our Virgin Money Fund page and make a donation
What have we been up to
All the latest news on the 7events campaign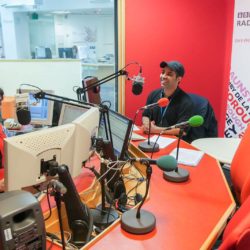 Jit Chauhan from 7events, speaks to Rupal Rujani of BBC Radio Leicester.
Previous
Next